HACC Sponsor 2022
Aloha Sponsors!
Last year, the HACC was held virtually in response to the pandemic.  Enthusiasm and excitement of the HACC continued despite being held on-line.  Here's a look at the outreach:

Now in its seventh year, this year's Hawaii Annual Code Challenge (HACC) will once again be held virtually to allow for the continuation of bringing tech and innovative minds together.
The HACC is significantly unique from most hackathons, which typically run over a day or weekend.  By being held over multiple weeks, participants – high school and college students and professionals — are given the benefit of time to further develop proof-of-concepts to challenges provided by State departments.  Virtual interim workshops on technical skills development as well as pitch presentation training are also included in the hackathon.  These opportunities provide valuable real-world experience and the ability to connect with professionals in the industry at no cost to participants.
This year, the State of Hawai'i and IMAG Foundation, are proud partners of this great event, which kicks off on October 15.  Interim workshops will be held on October 22 and October 29.  Submissions will be presented and judged on November 5.
Participants are able to take part in the HACC at no cost because it is solely funded through sponsorships.  Money raised will go towards supporting the event and prizes.  The goal is to raise approximately $50,000.  All sponsorship funds will be received and handled by IMAG Foundation, a 501(c)(3) organization, making all contributions 100% tax deductible.
We would greatly appreciate your organization's consideration in becoming a sponsor of HACC 2022.  Your contribution will allow for HACC participants to learn, innovate, and work together to improve state government through technology and civic engagement.  We truly believe the HACC is where innovation begins.  This tech competition is a proud recipient of the State IT Innovation of the Year award by StateScoop, serving as a model program for governments across the nation.
Please see the sponsorship packet below for details.
Opportunities: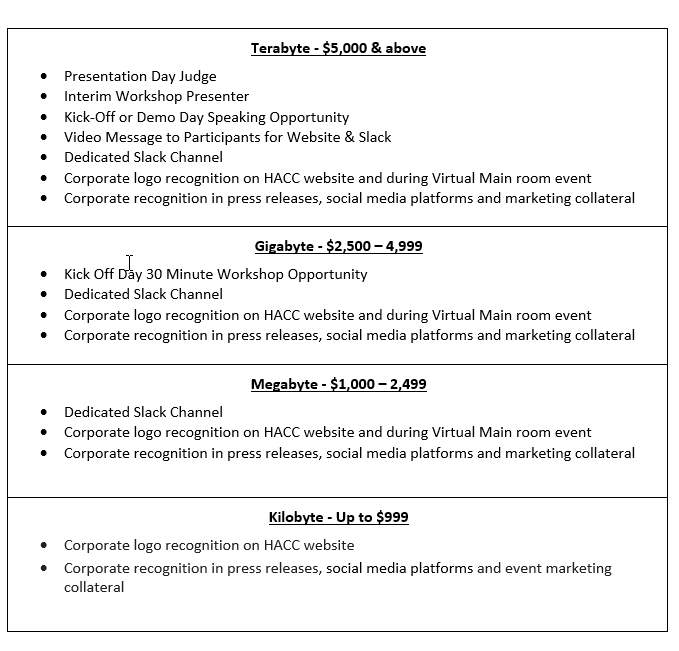 Sponsorship packages may also be tailored to suit your needs.
---